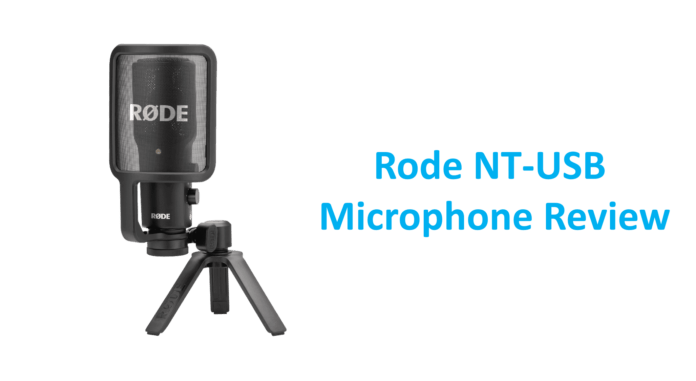 3
mins read
In this article, we would give a detailed review of the Rode NT USB microphone. We have been using the Rode NT USB microphone for more than two and a half years. So, you are going to get an honest review on this rode microphone.
If you do not know much about the Rode NT USB microphone allow us to brief you.
The Rode NT USB microphone is a high-quality USB microphone that is well-suited for a variety of recording applications, including podcasting, voice-over work, and home recording.
We are using a Rode NT USB microphone for voice-over work, and home recording.
Rode NT USB design and its build quality
The Rode NT-USB is a handsome microphone. It has a sleek and stylish design, with a black metal body and a silver grille on the front. The mic measure 184mm x 62mm x 50mm and weighs 520g, giving it a solid and robust feel. The microphone comes with a sturdy desktop stand that's easy to attach and provides a stable base for the mic.
One of the standout features of the NT-USB is its integrated pop shield. The shield is built into the grille and helps to reduce plosives, such as p, s, and t sounds, which can cause a popping or thumping noise in the recording.
The pop shield is effective without being too obtrusive, and it saves you the hassle and expense of buying a separate pop filter.
Sound Quality
The Rode NT-USB uses a cardioid polar pattern. The cardioid polar pattern allows sound captured from the front while rejecting sound from the sides and rear.
This makes it great for recording vocals, as it focuses on the sound source and minimizes background noise.
Hear the below sound. The sound is recorded in Audacity and is completely free from any kind of editing like noise removal.
The mic has a frequency response range of 20Hz to 20kHz, which covers the full range of human hearing. It has a maximum SPL of 110dB, which means it can handle loud sounds without distorting.
The mic also has a 16-bit/48kHz resolution, which provides clear and accurate recording quality. The NT-USB produces a warm and natural sound that's ideal for voice recording. The microphone has a wide dynamic range that allows it to capture both whispers and loud shouts without any loss of fidelity.
We faced small problem when we use Rode mic with XP Pen Deco 3 Tablet. With the tablet's wireless connectivity, we got some very peculiar humming sound while recording. We tested again with XP Pen Deco 3 this time with cable connectivity, and no humming sound was recorded.
Ease of Use
The Rode NT-USB is incredibly easy to set up and use, even for beginners. It is a simple plug-and-play type microphone. It connects to your computer via USB and is compatible with both Mac and Windows systems.
Once you've plugged it in, you can start using it right away without any need for additional software or drivers.
The mic has a headphone output on the front that allows you to monitor your recording in real time. This is a great future that makes it easier to hear any issues with your recording and adjust your performance accordingly. The headphone output has a volume control on the back of the microphone, which lets you adjust the level of the headphone volume to your liking.
Additionally, it comes with a 6-meter cable, which is very easy for a person who changes their recording location regularly.
Versatility
The Rode NT-USB is a versatile microphone that can be used for a variety of recording applications. It's great for podcasting, voice-over work, and home recording, as well as for streaming on platforms like Twitch or YouTube.
Choose any software like Audacity, Adobe Audition, GarageBand, Camtasia, and Logic Pro X, the microphone has no compatibility issues.
We have been doing live sessions on Zoom App and this microphone works well with such applications too.
You can also mount the microphone on a boom arm or a mic stand as it comes with a standard 3/8" thread on the bottom.
Final Thoughts
Overall, this is the perfect microphone if you're serious about voiceover (whether it's for YouTube or Facebook streaming, podcasts, or course content creation) and fancy dabbling in music as well. The excellent audio quality easily beats the competition in practically every way.