9
mins read
Pedestal fans are an essential appliance in Indian households, especially during the summer. They offer a great solution to beat the heat and provide effective air circulation in a room. With so many options available in the market, it can be difficult to choose the right one.
To help you make an informed decision, we have compiled a list of the top 10 best pedestal fans in India based on a few factors in mind like price, sweep, air delivery, power consumption (depending on wattage), durability, noise, etc.
Factors Need to Consider before buying Best Pedestal Fan in India
Consider the following factors to buy the best pedestal fan –
Fan Speed
Air Delivery
BLDC Motor
Power Consumption
Durability
Noise
For more details on the above factors you can read this article – "How to select pedestal fans?"
For your ease, I have compiled the comparison between the features of the best pedestal fan –
Best Pedestal Fans in India 2023
Atomberg Efficio+ 400mm BLDC motor Energy Saving Pedestal Fan with Remote Control (White, Pack of 1)
This atomberg pedestal fan can work as a table fan as well as a pedestal fan.
It uses a BLDC motor which consumes power of 32 Watts at the highest speed.
You can control features like speed, oscillation, and timer mode with its remote.
This fan seems ideal for the living room, bedroom, large kitchen areas, or even for the terrace garden.
The fan makes less noise so that you can have a peaceful sleep.
Take a look at the below video where we have demonstrated the working of the fan and even checked the noise level of the fan. We use Mextech Sound level meter SL-60 to check the noise of the fan. At maximum speed, the fan gives noise around not more than 35 dB which puts the fan in a 'Quite Fan' category.
Two years back I bought this fan for my house. We use this fan at our ritual place. The fan works 24 hours. The only problem started is while swing operation the fan gives unusual noise. You can hear that sound in the video also but only at low speed. The unusual sound coming up while swing operation is covered during the high-speed operation.
Usha Mist Air ICY with Remote 400mm 50- Watt Pedestal Fan (White)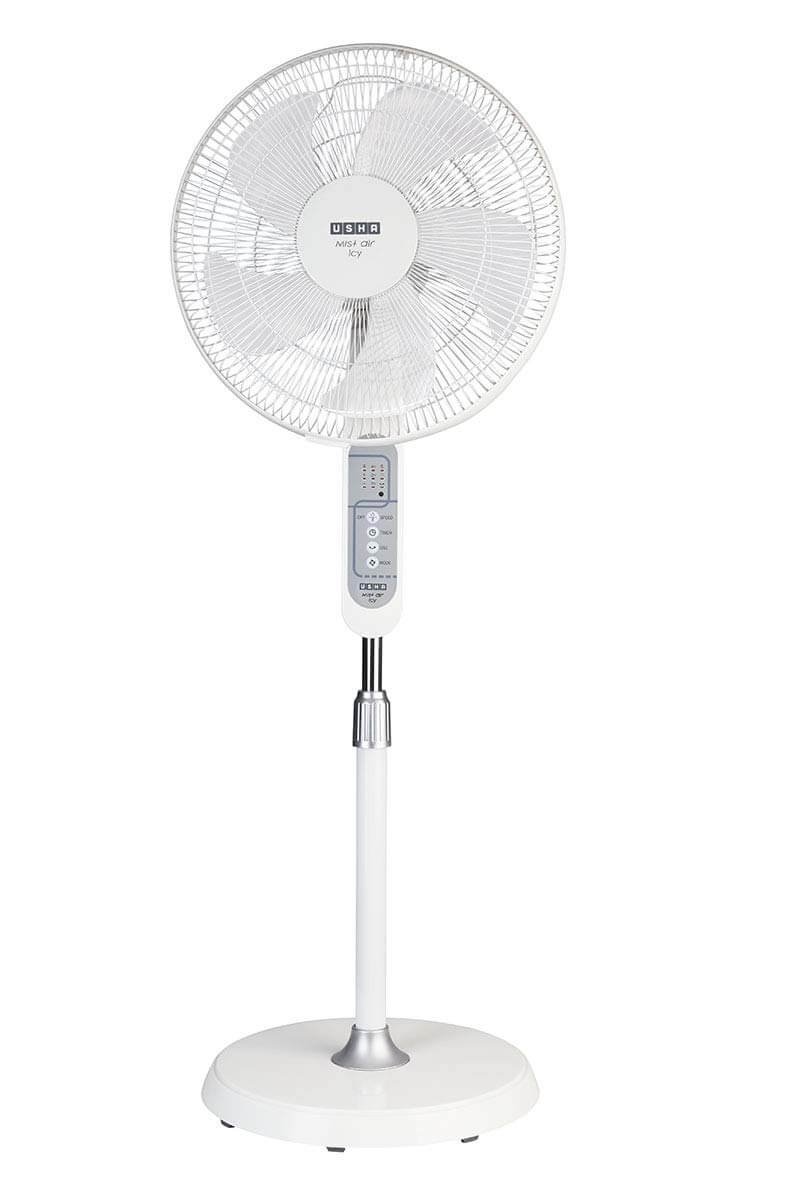 The Usha Mist Air ICY Pedestal Fan has a 50-Watt motor with 100 percent copper windings for economical operation.
It has an aesthetically built switch box where you may vary the fan speed. Additionally, Usha Mist Air ICY comes with a variety of color options. With a variety of exquisite color options, Usha mist aids in enhancing your decor.
It has an aerodynamic blade shape and can rotate at 1180 RPM.
It comes with a remote control that makes it simple to run the fan.
Enjoy uniform oscillation that is jerk-free thanks to the motor's push/pull knob. The fan's angle may be adjusted using a soft-touch tilting mechanism so that the airflow is customized to your needs.
The best part is that it comes with an inbuilt thermal overload protector that protects the fan from overheating and voltage fluctuations.
V-Guard Esfera Pedestal Fan with Remote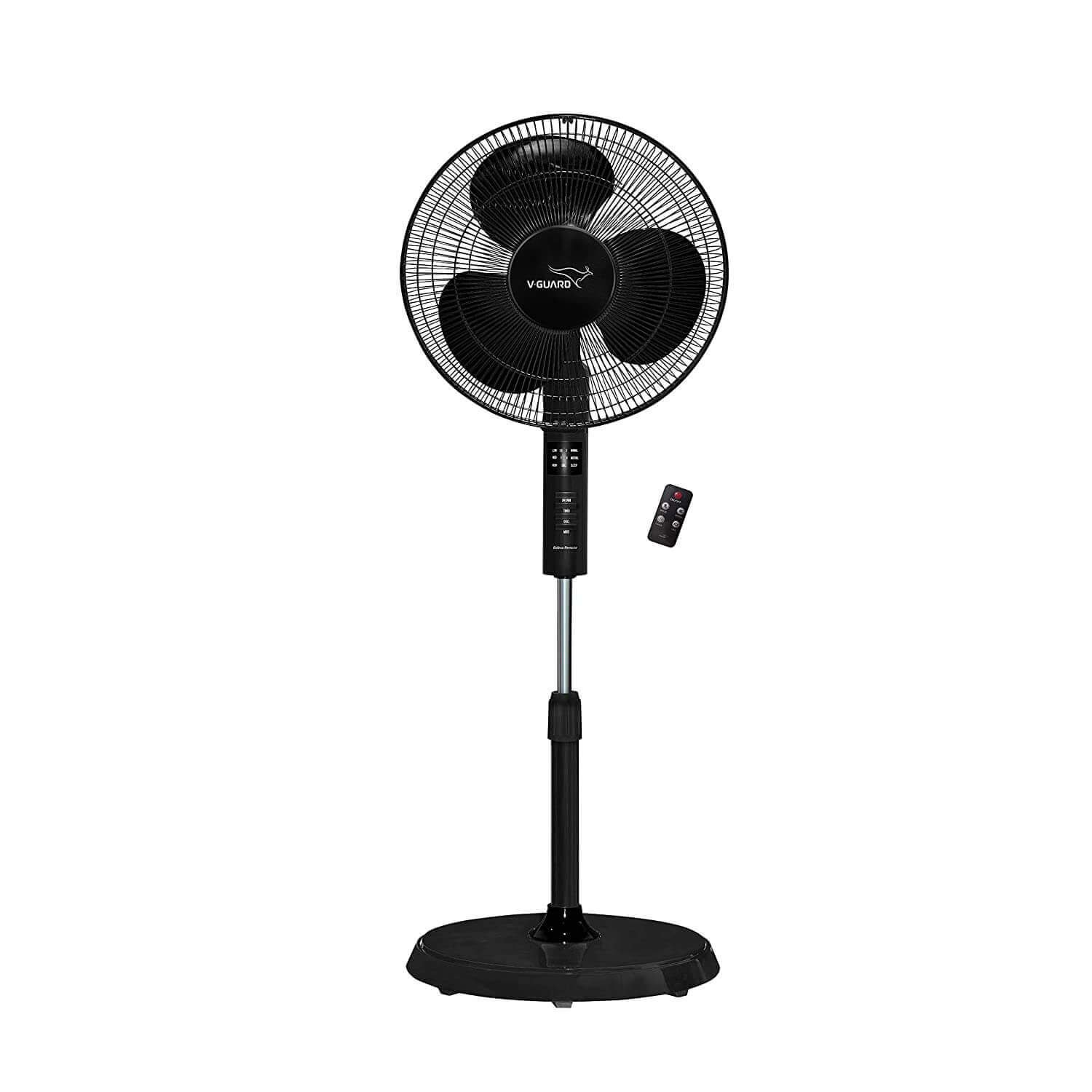 With a strong copper motor, the Esfera Pedestal Fan is a durable and long-lasting device that has been skilfully manufactured. The CRNO lamination ensures that the fan's motor will operate more efficiently and durably. The aerodynamically formed blades provide smooth and effective air delivery. The V-Guard Esfera Pedestal Fan has a strong motor and 1300 rotations per minute.
You may feel the maximum comfort with Esfera because of its adjustable telescopic height, 60-degree oscillation, and 30-degree tilting. Its three-speed options further increase convenience, and a strong built-in safety feature defends against overload and overheating.
It has aerodynamically designed blades and a 400mm sweep area to provide adequate air movement.
It has a 45 cm base that keeps it sturdy and prevents it from falling.
It has a built-in timer that can last up to 7.5 hours.
It comes with a remote control that makes it simple to run the fan.
ORIENT Electric Tornado Pedestal Fan, 450 mm, Black

The performance and optimal cooling of the Orient pedestal fan are intended to impress users. This is appropriate for all users who desire instant chilling environments with no problems.
It combines 1325 RPM and 6030m3/hour airflow to provide the needed effective cooling. Because of its unique blade shape, cool air can reach out to everyone and everything in the greatest way possible.
Users may easily select a suitable speed from the three-speed setting options.
It is equipped with a thermal overload protector to ensure the users' safety.
It also has an extra-large base that provides adequate stability to the fan while it is operating.
One of the key advantages of this pedestal fan is that it requires less maintenance.
iBELL Chrome 10 5 leaf pedestal fan with timer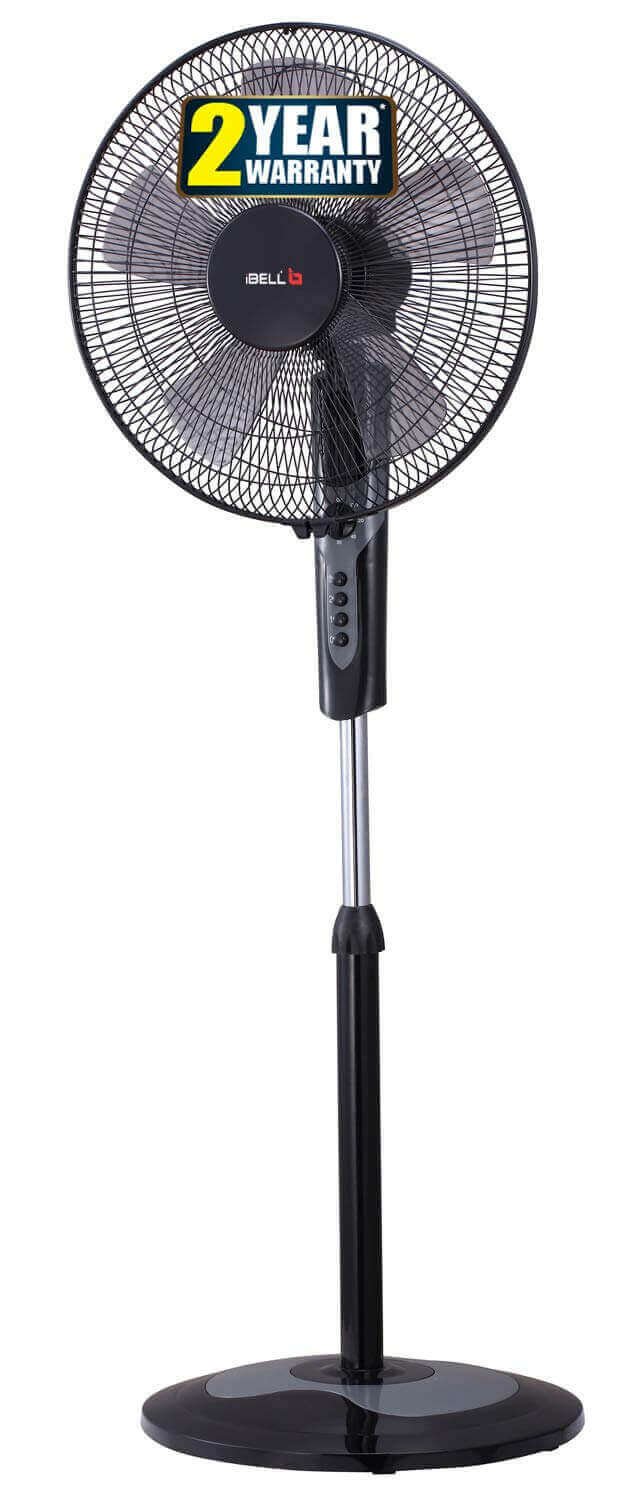 High Air Supply provides effective performance and quicker cooling wind.
The iBELL CHROME10 Pedestal Fan has a 55-Watt self-lubricating motor with a high-air throw.
Comes with powder-coated metal grills that keep it rust-free and have a 2-hour timer and a wide-sweep oscillation.
A smooth, powerful, long-lasting performance with Low Power Consumption is guaranteed by the extremely efficient 100% Copper Motor.
It has speed control buttons that let you choose between low, medium, and high speeds.
It has five high-quality blades that generate enough air to keep you cool.
Thermal Overload Prevention shields the motor from any voltage fluctuations and prevents the fan from overheating. The circuit will momentarily be broken whenever there is an overload to protect the fan.
Amazon Basics High Speed 55 Watts Oscillating Pedestal Fan 400mm Sweep
This product makes a modest 73.4 DB sound at its top speed of 1456 RPM. You can experience cooling without being bothered thanks to a low-sound, high-speed air supply. International quality standards are met by this product, which has undergone stringent testing procedures.
To guarantee stability and safety against electric shocks and fire threats, a global lab subjected this fan to rigorous testing. This pedestal fan is secure when used because the blades are completely covered.
There are three-speed settings available thanks to the fan blades' aerodynamic shape. The automated oscillation feature of the fan provides jerk-free, slick oscillations that cover a 65% angle to aid in cooling a larger area.
This pedestal fan's ergonomic design makes it simple to put together and use. It features a height adjustment range of up to 5.2 feet and three independently adjustable vertical tilting angles.
Atomberg Renesa 400mm Sweep Pedestal Fan with Remote Control
The 5-star rated Atomberg Renesa Pedestal Fan is a energy-efficient fan. This high-speed fan has an innovative atomSENSE algorithm that delivers high 1500 RPM for 76 CMM of airflow.
The best part is it makes less noise. We tested fan noise levels at different speed levels and the result is amazing. The makes just 30 db noise at top speed. Take a look at the test video.
It comes with an incredibly effective BLDC motor that is perfect for homes and offices because it uses only 35 watts of power, saving up to 65%.
There is an easy-to-use remote control included with the Renesa Pedestal fan. With the push of a button, you may change the fan's speed or use its distinctive features, such as timed mode and swing oscillation. The remote is practical to use because it can be used from anywhere in the room up to 20 feet away.
The Renesa Pedestal fan is portable, features an easy-to-clean thin metal body made of ABS plastic, and includes LED lights to indicate speed. Fan without noise for increased comfort.
The recent update is that Atomberg has stopped manufacturing a 2-in-1 Pedestal cum table fan. If you get a product manufactured before March 2023 you can use a pedestal fan as a table fan but not after March 2023.
IBELL WINDP10 Pedestal Fan 5 Leaf with Remote
This portable fan is easy to install in any room of your house and move around as needed. With its five wide blades, the fan improves ventilation in the space. At all speeds, the iBELL Fan oscillates smoothly and consistently.
The pedestal fan can endure voltage fluctuations with ease because it was made for the weather in India. It has a contemporary look that is made cheerier by the white color.
The motor Power is 100% copper and the power consumption is 55W.
The fan comes with Remote Control. Useful for both the business and the home.
Usha Colossus Rust-free Aluminum Blade 400mm Sweep Pedestal Fan
Specifically created with rust-free aluminum blades for effective cooling in coastal locations with high humidity.
A powerful performance is offered by the 100% copper motor, which uses 70 W to deliver 92 m3/min of air at a speed of 1320 rpm.
The air delivery is good because the Aluminum blades are heavy compared to ABS plastic blades. So naturally throws more air due to high centrifugal force.
Automatic reset Thermal Overload Protection (TOP) guards against overheating of the fan and safeguards the motor from any voltage fluctuations. The circuit will be momentarily severed in the event of an overload to protect the fan.
V-Guard Finesta RW Neo Remote 400mm Pedestal Fan (Yellow Black)
With the cutting-edge Finesta Remote Neo, experience unparalleled cooling. This remote pedestal fan is slim and small in form, making it adaptable enough to be installed anyplace in your house. The fact that this unique device may be operated by a very effective and simple-to-use remote adds significantly to its exceptional performance because it eliminates the need for you to get up every time you want to turn the fan on or off or adjust its settings.
There are three operating modes for the Finesta Remote with Timer; Natural Mode, Sleep Mode, and Normal Mode.
This Pedestal has one of the most potent 1300 RPM rotating motors, which produces excellent airflow. The body is constructed from ABS material, which not only provides it with a high-quality finish but also enables it to work at its best without vibrating or moving inadvertently. An efficient LED indicator system adds another layer of security to the cutting-edge technology on exhibit here.
Frequently Asked Questions (FAQ) on Pedestal Fans – 
Q. Which RPM is best for Pedestal Fan?
A. The RPM around 1500 is best.
Q. What is the normal pedestal fan size?
A. The pedestal fan size means its sweep size. It is good to have a sweep of 400 mm to 600 mm.
Final Words
All the fans mentioned above come under Rs.5000. Manufacturers have covered most of the features that a customer needs.
In my opinion, Atomberg Renesa wins the race among other pedestal fans. The reason is, it consumes less power just 35 watt-hours at maximum speed and also increase your room decor with its elegant looks.
You can also set six different speeds, oscillation, and On/Off control with the help of its remote control.
Finally, you can select a pedestal fan that suits best your comfort.
Related Articles
Similar Articles
Top 10 Best 1.5 Ton Split AC in India 2023